In the latest episode of Anupamaa, the Shah family is in a celebratory mode.  Baa and Bapuji clock 50 years of their marriage.  Shah family members are seen celebrating their 50th wedding anniversary.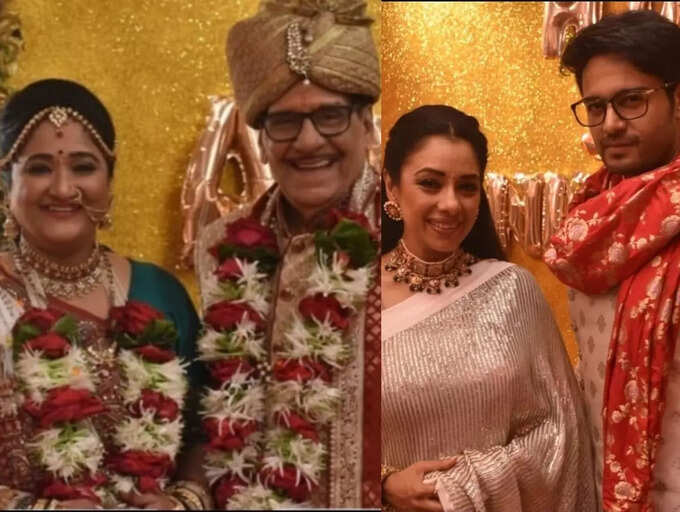 During the celebrations in the episode, we will see men of the Shah family performing qawwali. They are performing on the song, Tum se mil kar dil hai jo haal kya karein. Amidst this qawwali act, Anuj imagines dancing with Anupamaa. While in reality, Shah family is dancing to this song and Anuj is nowhere close to Anupamaa.  His imagination is too far from reality.
Amid the celebration, Vanraj gets a phone call. He is heard asking someone on a call if the package is ready. Later, Vanraj instructs the person on call to strictly deliver the package to him only.
Subsequently, Anuj too gets a call from an unexpected person. He looks quite puzzled on receiving this certain person's call.  At the same time, he doesn't want to spoil this day, as Anupamaa is happy to be with her family. The entire family sits down for dinner. Hasmukh feeds everyone the sweets made by Anupama.  Vanraj praises her for their unmatched taste.
The conversation at the dinner table is about the pros and cons of marriage. Kinjal asks Leela and Hasmukh to share their secret behind completing 50 years together as a couple. Hasmukh tells Kinjal that the most important thing in any relationship is that you should always correct the mistakes of your partner instead of destroying the relation.
Consequently, Pakhi states that considering whatever has happened in her family, she doesn't want to get married. But Vanraj asks her to see Baa-Babuji and how their marriage has set an example for everyone.
Thereafter,  Babuji grooves to Saajan ji ghar aaye.  On the other hand, Kavya is boiling with anger. Targetting  Anupamaa during the photoshoot,  Kavya tells her that she had enough.
Will Kavya create a scene, what will Vanraj do? To know more keep watching Anupamaa on Disney+Hotstar.