As usual in the house of Bigg Boss 15, fights and allegations continue going overboard.  Abusing each other, calling names, making nasty remarks is something that is often seen as a part of every fight amongst the contestants. This time, the latest episode witnessed Karan Kundrra and Pratik Sehajpal lock horns.
Nonetheless, the word 'stupid' went too ahead when Karan Kundrra lost control of his stand. During an argument, Pratik called Tejasswi Prakash 'stupid'.  Thereafter, the heated argument turned into a fight between Tejasswi and Pratik. This didn't go well with Karan, who asked him to not use such words. The former alleged that stupid is not a bad word.  Pratik argued that Tejasswi started it and he doesn't feel that there is nothing wrong in using the word.
However, Karan didn't feel that it was right on Pratik's part and so the fight began. As the former tried to prove himself right, he questioned the latter if he would listen to somebody calling any of his loved ones 'stupid'. Following his argument, Karan went on to say, "Teri maa stupid." He further added that he won't listen to Pratik calling his girlfriend 'stupid'.
Subsequently, everyone tried to stop Karan from losing track of what he is saying. Pratik also got raged out and charged against him. While everybody asked Karan to mind his words, he didn't pay heed. Following this Shamita Shetty screamed at him and lashed out for taking a wrong stand. She stated that he might be right in supporting Tejasswi but he isn't right in calling Pratik's mother 'stupid'.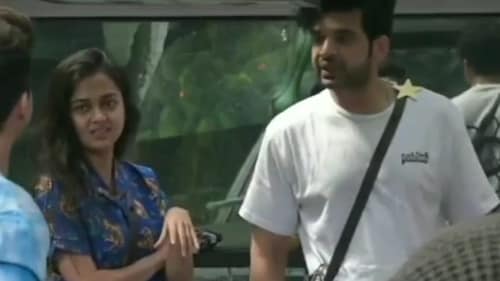 This topic was picked up once again during the 'galatfehmi ke gubbare' task with Bigg Boss 15 host Salman Khan. When asked to explain, Pratik shared his side of the story and Karan stated that he was just trying to prove his point.  Karan Kundrra added that he later realized that the comparison he drew was wrong and apologized to Pratik. Reacting to this, Pratik said, "Yaar, please."

Later, Shamita had a calm conversation with Karan and explained how he went wrong with his words during the argument. She further explained that Tejasswi should and could have stopped him but didn't which was wrong.