Salman Khan hosted Bigg Boss 15 viewers once again witnessed a nasty fight between Devoleena Bhattacharjee and Abhijeet Bichukale. The fight took place after a task. In one of the tasks, the contestants were asked to sit still without any expressions irrespective of the external disturbing elements.
Nonetheless, Pratik Sehajpal and Shamita Shetty began with it. Abhijeet too was part of it, but later got evicted as he gave a lot of expressions. After he was eliminated, he began to distract Pratik by saying many mean things to him.
While taking a nasty dig at Pratik, Abhijeet dragged his family and female contestants of Bigg Boss 15.  Although Pratik continued to play the task, it was during the break that he complained about it.  Pratik explained to Nishant Bhat, Tejasswi Prakash, and Devoleena that Abhijeet is crossing the line. He told them Abhijeet said that Pratik tastes Shamita's Sh** whenever she was constipated. Pratik in anger mentioned that he will punch Abhijeet.  Hearing this, Abhijeet lost his cool and started to scream and also threw his mic. In addition to this, he started damaging the property of Bigg Boss 15.
Furthermore, Abhijeet taking a sharp dig at Pratik is heard saying, "Agar tu ek baap ki aulad hai na mujhe haanth lagake dikha". Pratik continues to play the task. Devoleena warns Abhijeet for his nasty words and reminds him that Pratik is the one who takes care of him. After the task wraps up Devoleena confronts Abhijeet as to why did he drag Pratik's parents in it. Reminding him that he has also abused her parents, Abhijeet in anger tells her not to talk to him.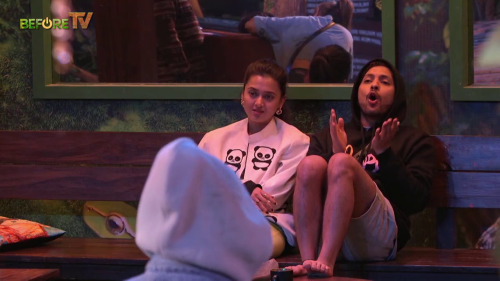 Additionally, Abhijeet tells Devoleena not to spit when she talks.  The latter replies that he is worth it. The fight escalates and both abuse each other.  Abhijeet picks up the metal water bottle in anger and tries to throw the same at Devo.  Umar, Nishant, and Pratik try to stop Abhijeet.
Meanwhile, Bigg Boss issues a warning to all the inmates. BB also commands Devoleena and Abhijeet to stay away from one another. Thereafter, Pratik takes Devoleena to the garden area, where she has an emotional breakdown.
Later on, she locks herself in the washroom and begins to break things. At first, Bigg Boss 15 asks Pratik to stop her.  Afterward,  other housemates too rush to the bathroom to calm down Devoleena Bhattacharjee.