Actor Ranveer Singh recently made his television debut. He is currently seen hosting the visual-based quiz show, The Big Picture on Colors TV. The show is being appreciated for its exceptional format. It is India's first visual-based quiz show which tests the knowledge and visual memory of the contestants.
Ranveer Singh has also been praised for his hosting skills. He is referred to as the energizer bunny. Apart from this, his modesty and skill of connecting with people are helping him to bond very well with the participants.
Furthermore, Ranveer's colleagues also appreciate him a lot. The ace actor is extremely affectionate, friendly, and emotional. The viewers witnessed his emotional side when actresses Sara Ali Khan and Janhvi Kapoor took over The Big Picture show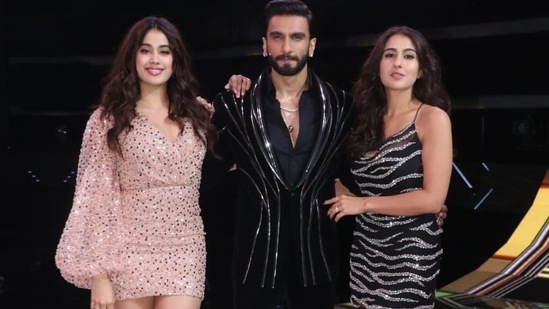 Nonetheless, the new promo of The Big Picture does not have Ranveer Singh as the host. Sara Ali Khan is seen walking onto the stage. Arriving on the stage, Sara says, "Bahot Bahot swaagat hai aap sabka on The Big Picture."
Sara Ali Khan goes on to welcome Janhvi Kapoor. "Please welcome Janhvi Kapoor, very gorgeous, style icon, youth icon," she says.
However, Sara and Janhvi's plan to take over the show gets ditched. Because the show's original host, Ranveer Singh, makes an entry. A troubled and loosely tied with a rope, Ranveer angrily points out at the two. Ranveer Singh says, "Jo saazish kheli hai inn donon ne, meri jagah lene ki koshish kari tumne!" Sara and Janhvi stand and give a broad smile.
The episode, featuring Sara and Janhvi, will air on the weekend on Colors TV at 8 pm. Sara and Janhvi have also posted a few sweet pictures of theirs on Instagram.
Sara's post reads, "Real princesses fix each other's crowns. Friendship, inspiration, motivation from gyms to gowns. Loving, laughing, smiling, no place for frowns. Because it's always a blast with you at home, at the shoot, or in remote Indian towns."
Whereas Janhvi's caption said, "girls want girls." For the unversed, Sara Ali Khan and Janhvi Kapoor are gym buddies. They are both trained for pilates by celebrity fitness instructor Namrata Purohit